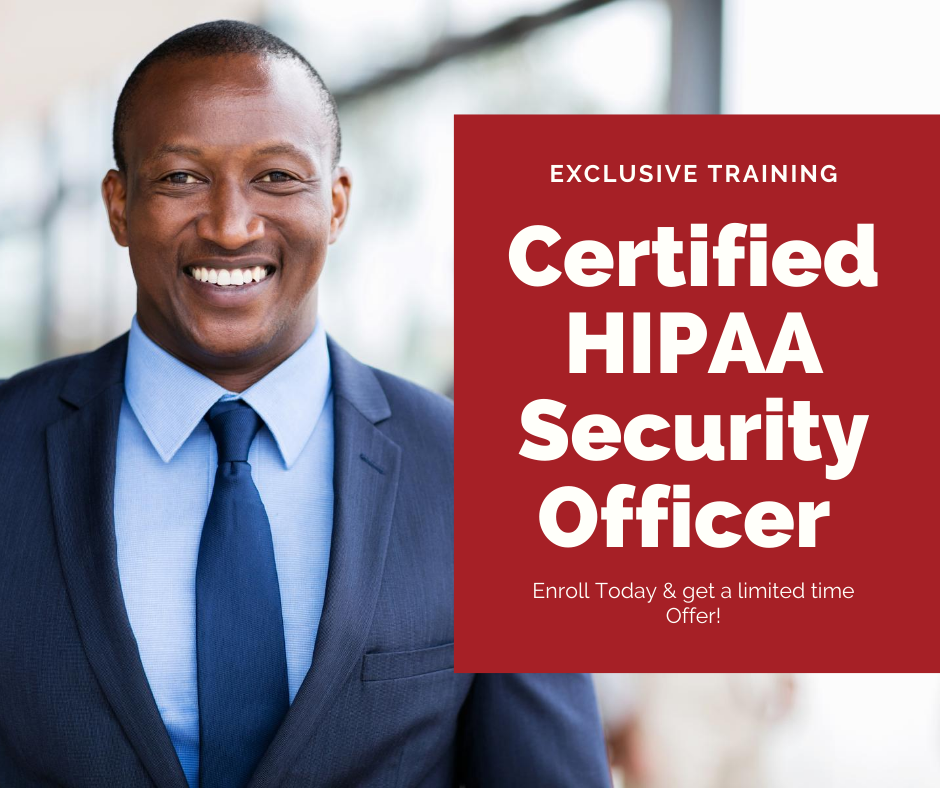 Local Certified HIPAA Security Officer Training
The Certified HIPAA Security Program is designed to educate Healthcare Professionals and Business Associates understand HIPAA Security (45 CFR Part 160 and Subparts A and C of Part 164) and guide them with their compliance requirements of this law. The Certified HIPAA Security Officer is the first tier of a three-level certification program. The actual course work consists of approximately 24 courses, testing after every course, and the opportunity to become a Certified HIPAA Security Officer after taking and passing our level examination test (see below for more information).
The Certified HIPAA Security  Officer (CHSO) Bootcamp consists of an intense 2-day seminar, covering the basics of HIPAA Security, the three basic Safeguards (Administrative, Physical and Technical), and the Standards covered under each, plus a brief overview of the key laws that apply to HIPAA Security. In addition to this review of HIPAA Security, this Bootcamp will also prepare attendees to take the Certified HIPAA Security Officer Examination. Scroll down to see the schedule for both Friday & Saturday!
The CHSO Bootcamp is taught by CHSOs who, in addition to having passed the test, are experts and have extensive experience in the areas they will cover. The CHSO Bootcamp is approximately eight hours long and includes a basic manual and the ability to ask questions/review after all presentations have been finalized.
The CHSO certification test consists of approximately 100 questions covering the basics of HIPAA, HIPAA Security Standards, and key laws dealing with HIPAA Security such as the HITECH Act and the Omnibus Rule. The test is timed and candidates have approximately two hours to complete the same.
The CHSO test can only be taken at specified testing centers at specified designated dates. The CHSO test is normally scheduled as part of the EPI Compliance conferences but for a limited time only, will be available at a discounted rate of $700 (a savings of $400). Seating is very limited, so book your spot today at https://www.epiconferences.com/tickets/ 
Hourly Schedule
CHSO - Friday Training
CHSO - Saturday Training
8:30 AM

-

9:20 AM

Technical Safeguards

Access Controls, Audit Controls, Integrity, Person or Entity Authenticator, Transmission Security

Speakers:

Dr. Jose I. Delgado
9:30 AM

-

10:20 AM

Physical Safeguards

Facility Access Controls, Workstation Use, Workstation Security, Device Media Control

Speakers:

Jose A. Delgado
10:30 AM

-

11:20 AM

Legal Aspects

Business Associate and Breach Reporting

Speakers:

Dr. Jose I. Delgado
11:20 AM

-

12:50 PM

Lunchtime
Certified CHSO Testing
1:00 PM

-

2:30 PM

CHSO Testing